Our Bait & Tackle Shop
Reel 'Em In Bait & Tackle has been providing all fishing lovers with fishing gear and supplies for over 15 years. Since our founding in 2003, our goal has been to provide quality products, affordable repairs, and excellent customer service to everyone who walks through our doors. Whether you think of yourself as a fishing expert or a fishing novice, our store offers all the fishing gear you need to create a fun filled day out on the water. Carol Latour, owner of Reel 'Em In Bait & Tackle, is a fishing pro and can help you find everything you need to make your next fishing experience a great one.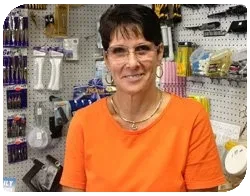 Serving the Sebastian, Vero Beach, Melbourne & Palm Bay, FL Areas!
Reel 'Em In Bait & Tackle is conveniently located on 821 US Highway 1 in sunny Sebastian, FL. We are less than a half hour drive from both Vero Beach, FL and Palm Bay, FL, making us a convenient place to go to for both locations and for every stop in between. Stop by our bait shop today for the best selection of fishing gear and supplies in Florida. We can't wait to see you!
Check Out What Customer's are Saying About Our Bait & Tackle Shop:
Nice store friendly staff.
J.R. Lacaze
EXCELLENT SERVICE. Excellent !!!
Ron Mccullough
Always top notch service and quality products.
John Laurenza
I really love their new place.
Ron Mitrowski
Very nice folks good fishing gear and bait good prices.
Michael Dauphin
Nice little bait shop
Rob Shane
Found everything to be excellent and the bait was nice and fresh
S Preston
Very nice place. The lady that helped me was very nice. The shrimp was a very good price.
MCsoccer BROS
Great family-owned bait store. Great new location! All your fishing needs in one place.
Alan Kapornyai
Been going there for over 20 years, the new store has about the same amount of parking, but is otherwise much bigger. I have never had an issue there with anything. I love Sebastian, and plan to retire there, so maybe I am biased towards all things Sebastian, but this place is part of some very fond memories. Plus, I wanted to bump their rating up since I think the competition in town sandbagged in with a one star. (PS the other place is fine, too- it's bait, people)
M Z.
One of the best tackle shops on the Treasure Coast...... It is a serious well run tackle shop with lots of fresh bait.
Bill Kiene
Great new building friendly knowledgeable people.
Kerri L Spring
Always my first stop when I roll into town. If they don't have it, you don't need it! See you all again soon.
Jon Solomonson
Nice and friendly staff..great they have layaway too!
Ronald Bittner
Very nice and helpful with nice size live baits. We have been coming to them since Wabasso Tackle closed and we are very happy we found them!
Tila D.
The fresh clams will do the trick! Cute store and nice information for tourists. Loved the books and picked up shrimp that worked nicely also. Thanks Reel Em In.
Kaiti Rae
Great Bait Shop if you are in the Sebastian area.
Janis Davis Jones
THE best bait shop in a town with several bait shops. Fresh, lively bait every day. Good tackle at fair prices. Excellent staff. Highly recommended.
William Black
Great place to get what you need for fishing in Sebastian. Great gear, great service, good prices and local wisdom free for the asking. If you are in Sebastian for a vacation, go to Reel 'Em In for your tackle. Do business with local business people. It always pays off.
Bill Black
Went in to get Intel on local fishing scene having just moved to Sebastian from Daytona beach. The proprietor was very friendly and as it turned out very accurate with his information on the area.
Anthony Spells
Great customer service, Very helpful and informative about what is going on in the fishing community. Quality live bait for great prices.
fishnlady